New customized literacy program helps immigrants with English at work
By LISA HAARLANDER
News Business Reporter
2/29/2004
Hauptman-Woodward Medical Research Institute attracts some of the brightest minds in the world. And while they may be fluent in the language of science and technology, they can become tongue-tied making small talk at the water cooler.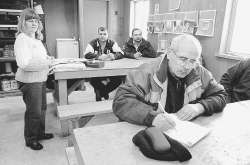 Photos by BILL WIPPERT/Buffalo News Sheila Fournier teaches English to Serbian refugees in the Safespan Platform Systems plant in Tonawanda. Bogunovic Sinsa and Svetozar Opacic are seated behind Savo Vagic, in the foreground.
Because Buffalo has workers whose first language is not English, Literacy Volunteers of Buffalo and Erie County is launching a new program to help them better communicate with co-workers.

"Companies need literacy services whether it's Hauptman-Woodward in the bioinformatics industry or a manufacturer with a production work force," said Tracy Diina, executive director. "Our volunteer teachers will go in and work on site and customize a program for the employer."

The area already has several existing literacy programs. Literacy Volunteers already works one on one with participants who meet with a tutor at a time and location both find convenient.

The Erie 1 Board of Cooperative Educational Services (BOCES) conducts free on-site classes for groups of workers. And the University at Buffalo has a semester-long program that takes 25 hours per week and can cost close to $2,000.

About half the production work force at Safespan, a scaffold maker in the City of Tonawanda, are Serbian and Croatian refugees. Catholic Charities found the first few jobs, and others learned about Safespan from friends and relatives.

Their employer gives them paid time off each week to attend on-site classes taught by a teacher from BOCES.

Lambros Apostolopoulos founded Safespan in 1995 and was himself an immigrant who came to America from Greece when he was 17.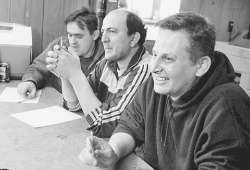 Learning English at the Safespan Platform Systems plant are Serbian refugees, from left, Petar Mirilovic, Ilija Galijas and Brataslav Trifkovic. As their teacher Sheila Fournier reads from a newspaper article, she stops and asks if they understand what the word unlimited means. The eight men sit silently at painted plywood tables.

"Unlimited long distance," replies Savo Vagic. He calls his mother in Croatia every Sunday at 8 a.m.

The program allowed Djuro Stegic to become a foreman after four years at Safespan.

"My English was "good morning' and "goodbye,' " said Stegic, 31, who was a third-year law student when he fled Croatia. "Now, I can understand what my bosses say and translate for the guys who don't understand."

Better English was crucial when a co-worker recently suffered a seizure. His co-workers could tell the ambulance crew what symptoms he had right before collapsing and how he hit the ground, said plant manager Jacque Austin.

"They're excellent workers. If we can help them, we figure down the road, we'll be more productive," he said. "We were more than willing to divert more than 10 percent of their production to this because we'll gain that back and more down the road, and it's the right thing to do."

The new program Literacy Volunteers is launching is a more customized version of BOCES program, which is more like a formal English class. And while the federal government pays BOCES $4 to $6 per student per hour, employers would have to pay between $500 and $750 per student for the Literacy Volunteer program, mainly to train volunteers and to provide materials to students. Work force development grants may be available to offset that cost.

It's a small cost considering the potential return on the investment, said George T. DeTitta, chief executive officer of Hauptmann-Woodward, which wants to attract young scientists from around the world who would spend six months to a year doing research.

"This is a relatively small minority of the work force here, but nonetheless, an important one. Often they come with relatively minimal speaking skills, although their ability to read science is at a very high level," he said. "A sabbatical visit often leads to a lifetime of collaboration, and the payoffs are difficult to calculate but very tangible."

Those collaborations can mean federal dollars flowing into Buffalo for research.

Diina of Literacy Volunteers also hopes its new program, developed with the help of the United Way, will help the Buffalo area retain more of its immigrants.

Despite Buffalo sitting on an international border, the area lost more immigrants than any other major metropolitan area in the United States, according to a study by the Population Studies Center at the University of Michigan. Even though the region saw a 54-percent increase in immigrants during the past decade, they aren't making up for the ones leaving.

While the main culprit of the immigrant exodus is a lack of jobs, area businesses are hoping that helping recent arrivals with literacy and conversation will make them more likely to stay.

e-mail: [email protected]